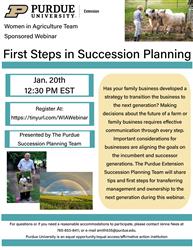 First Steps in Succession Planning

Jan. 20th @ 12:30 PM EST

Has your family business developed a strategy to transition the busines to the next generation?  Making decisions about the future of a farm or family busienss requires effective communication through every step.  Important considerations for businesses are aligning the goals on the incumbent and successor generations.  The Purdue Extension Succession Planning Team will share tips and first steps for transferring management and ownership to the next generation in this webinar.
Unmanned Aerial Vehicle (UAVs) Uses for Your Farm

Jan. 27th @ 12:30 PM EST

Unmanned aerial vehicles - better known as UAVs or drones - are transforming agriculture.  Images from UAVs will track changes in crops over time.  There are many other uses for UAVs that may be beneficial for farm owners/operators including monitoring animals and viewing structures/property improvements.  Purdue Ag & Natural Resources Extension Educators, Crystal Van Pelt and Bill Horan, will share basic tips for utilizing UAVs in your farming operations. 

To view all upcoming WIA webinars visit: 
 https://ag.purdue.edu/extension/WIA/Pages/default.aspx