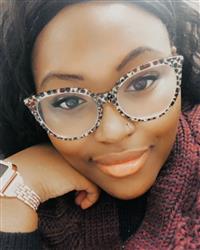 She is our secretary and works with the Administrative team. She started with Purdue Extension in October of 2020. She works on office organization and administrative support for the entire staff. Keep reading to learn more about Andrea! 
When did you start working at Extension & what is your job title?
I started in October and I am the Secretary for PEMC. 
Where did you go to college and what was your major?
I am currently in school; I attend IUPUI for Heath Information Management!
What was the "aha moment" that got you interested in working with Purdue Extension?
During my interview, I was asked questions concerning not only my work ethic but also about me as a person which made me feel like this place actually cares. I have worked for places that didn't care about my wellbeing or my health. This experience was different, and that made me feel really special.
What is the app on your phone you can't live without?
My music hands down, without my music I wouldn't be able to function.
Who inspired you most in your career?
My mom. She started as a secretary for the mayor's office in our hometown and said she met so many nice and interesting people. I now see what she meant; I've met so many nice people since I started working in the administrative field.
What is your favorite restaurant?
Cooper's Hawk Winery (absolutely the best place for all occasions hands down).
What do you tell Alexa to play most often?
I don't have Alexa; however, Siri knows my favorite playlist is my 'Cruising' playlist, consisting of about 125 songs haha.
What is one word you would use to describe PEMC?
Family.
It's your last dinner party on earth, you can invite 3 people to join you at your table. These people can be alive or dead. Who are they?
My Great Grandmother (passed), my Dad (passed), and my Mom (alive).
Last question, do you believe in ghosts? What about Aliens?
Yes, and yes
Get in Touch with Andrea
Andrea Williams
Purdue Extension Marion County
Secretary