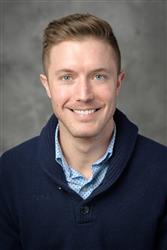 Meet Dustin Homan- one of our 4-H Youth Development Educators! He started with PEMC a year ago after previously working at Ohio State University Extension in their state 4-H office. Keep reading to learn more about Dustin's inspirations and world travels! 
Where did you go to college and what was your major? 
Both my bachelor's and master's degrees are from The Ohio State University in agricultural and extension education, with a minor in international studies.
What was the "aha moment" that got you interested in working with Purdue Extension?
Not just one, but many. I'm a product of Extension (I was a 10-year 4-H member). Reflecting back on my youth, I stayed out of trouble (for the most part), developed life skills, was mentored by caring adults, discovered my interests and connected them with my talents, traveled across the U.S., and was able to become the first college graduate in my immediate family because of my involvement in youth organizations like 4-H.  I wanted to work in Extension to "pay it forward," as former Ohio State football coach Woody Hayes once said.
What is the app on your phone you can't live without? 
Garmin Connect. I'm a runner and analyze my data in order to improve. 
Who inspired you most in your career? 
My 4-H and agricultural/FFA educators in Shelby County, Ohio, along with the caring adults I've met in Ghana, Nigeria, Kenya, Nicaragua, and Honduras who are making sacrifices to facilitate 4-H-like programming for youth around the world.
What is your favorite restaurant? 
HotBox Pizza in Indiana, but Raising Cane's Chicken Fingers in Ohio.
What do you tell Alexa to play most often? 
Right now, it's "All I Want for Christmas is You" by Mariah Carey!
What is one word you would use to describe PEMC? 
Sandbox. We are encouraged to research the needs of our community and then create and pilot new ideas. Even if the program is something I won't replicate again, we are still encouraged to keep trying new things!
It's your last dinner party on earth, you can invite 3 people that are not of blood relation to join you at your table. These people can be alive or dead. Who are they? 
Wangari Maathai (first African woman to win the Nobel Prize and her books stoked my fire to work with youth internationally),  Abraham Lincoln (because I'm a history buff, and the period I most enjoy learning about is the Civil War, along with presidential history), and Elton John. My wife introduced me to Elton's music and you need one person at your party who brings the fun!
Last question, do you believe in ghosts? What about Aliens? 
Hmm. Yes to ghosts and probably to aliens. I need more evidence to believe in aliens, but ask me about my ghost story sometime!
Get in Touch with Dustin 
Dustin Homan
Purdue Extension Marion County
4-H Youth Development Educator 
317-275-9283