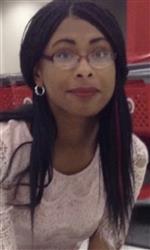 Meet Grace- our new Urban Agriculture Program Assistant through the Public Allies Program! She started with us back in August and works with our Urban Agriculture and Natural Resources team. Keep reading to see what she has to say about her favorite food and how she describes PEMC! 
Where did you go to college and what was your major?
I went to Butler University and will be graduating in May with a Bachelor's in Human Communications & Leadership!
What was the "aha moment" that got you interested in working with Purdue Extension?
Out of all the non-profits participating in the Public Allies program, I chose Purdue Extension because of my undercover passion of agricultural education, community outreach & tackling food insecurity.
What is the app on your phone you can't live without?
I could not live without the Musi app. It lets me create playlists & stream music/anything from on Youtube for free (as long as I have internet)! I use it when I'm at the gym, working, sleeping, etc.
Who inspired you most in your career?
I don't have any one person who has inspired me career-wise. I'm inspired by anyone who follows their passions and is living their dream.
What is your favorite restaurant?
My favorite restaurant is any restaurant that has good sushi!
What do you tell Alexa to play most often?
I do not have an Alexa lol
What is one word you would use to describe PEMC?
Community
It's your last dinner party on earth, you can invite 3 people to join you at your table. These people can be alive or dead. Who are they?
I would invite my parents and my little sister.
Last question, do you believe in ghosts? What about Aliens?
I do believe in spirits & the unseen world, but think the real aliens are the undiscovered sea creatures that lie below the depths of the ocean here on earth!
Get in touch with Grace
Grace Coleman
Urban Agriculture Program Assistant