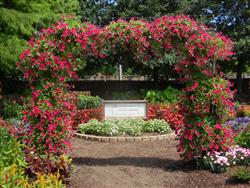 The Purdue Extension Marion County Demonstration Garden has been named a top selection from the All-America Selections (AAS) Landscape Design Challenge. This is the fourth year in a row that the garden has placed first or second in the Design Challenge nationally. 
The Demonstration Garden was named a second-place tied winner with the McCrory Gardens in Brookings, South Dakota. These gardens were in Category II of the challenge, reserved for gardens that garner 10,001 to 100,00 visitors annually. 
Purdue Extension Marion County Horticulture Educator, Steve Mayer, says the garden was a success despite the unique year. "The Purdue Extension-Marion County group really learned how to work under adversity this year, with great results. They had to change the normal days and times of the volunteer Master Gardeners for health safety reasons, but the resulting teams greatly improved efficiency and the sense of accomplishment, and the gardens ended up being healthy, attractive, and well-maintained. While the Purdue Extension has always donated produce from the garden to the local food pantry, this COVID year brought even more of a need and appreciation for this generosity. About 1,670 pounds of donated produce were harvested by these gardeners!" 
A special thank you goes out to the 12 Master Gardeners that took the time and dedication to put together and maintain this award-winning garden for another year! 
A video walkthrough of the garden can be seen here. 
Another garden in Indiana received honors from the AAS. The Master Gardener Association of Tippecanoe County, Lafayette, Indiana placed second in Category I, reserved for gardens that garner under 10,000 visitors annually.