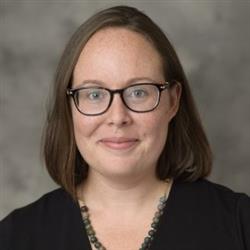 Where did you go to college and what was your major?
I have a Bachelor of Science degree in Dietetics from Purdue University and a Master of Public Health degree in Community Health Practice from DePaul University.
What was the "aha moment" that got you interested in working with Purdue Extension?
With my previous work in the Public Health Nutrition field, Purdue Extension was always considered a trusted and reliable resource in the community. When the opportunity came around to join the Purdue Extension team, it was a no-brainer for me!
What is the app on your phone you can't live without?
Pinterest! I like using it to get inspired. Whether I'm looking for home renovation designs, crafting tips, or healthy recipes, Pinterest always seems to give me great ideas!
Who inspired you most in your career?
I've always been inspired by strong women, no matter what career field they are in. Those that speak their mind and aren't afraid to stand up for what they believe in. The first person that comes to mind is Justice Ruth Bader Ginsburg. 
What is your favorite restaurant?
Indianapolis has so many wonderful restaurants, and they could all use our support right now. The pandemic has not been kind to the restaurant industry. So pick up the phone and order take-out from a local restaurant! And check out my favorite brunch spot- Patachou.
What do you tell Alexa to play most often?
I have a two-year-old daughter that is currently obsessed with Frozen. So these days we are usually singing along to the Frozen soundtrack.
What is one word you would use to describe PEMC?
Informative
It's your last dinner party on earth, you can invite 3 people that are not of blood relation to join you at your table. These people can be alive or dead. Who are they?
Anthony Bourdain (to make the food and for the great story-telling), Michelle Obama (I've always thought that she would be a wonderful person to have a dinner conversation with), and Jesus (I'm sure that there would be plenty for us to talk about. And he could bring the wine!)
Last question, do you believe in ghosts? What about Aliens?
Ghosts- nah. Aliens- of course! The universe is vast, I'm sure there is some sort of life out there.
Amber Broughton, MPH
Extension Educator- Health & Human Sciences
Purdue Extension Marion County
 she/her/hers
(317)275-9255
broughta@purdue.edu