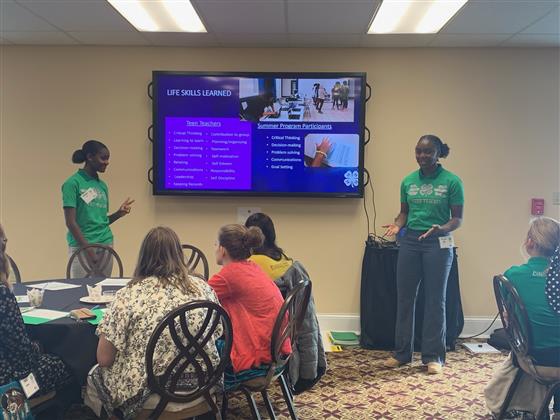 In honor of #National4HWeek last week, we wanted to shine a spotlight on one of our wonderful 4-H members, Saniia! This dedicated 4-year 4-H member goes above and beyond in 4-H, school, and all of her activities. Read more about Saniia below and learn what 4-H has taught her and what #OpportunityForAll means to her! 
What activities are you in at school?
"At my school, I do A LOT, so I'm on Student Leadership Council, the Battle of The Books Team, the varsity and junior varsity women's soccer team, Academic Superbowl, Urban Agriculture Club, National Honor Society, and Spanish Club. I'm also a school ambassador, which means I was chosen by teachers to help organize and set up all school events and show new students around."
What has been the most memorable lesson 4-H has taught you?  
"The most memorable lesson 4-H has taught me is leadership. To never be intimidated or discouraged by how others' lead. Trust in your own ability to be a leader and never be scared to take control of a situation."
What awards have you received in 4-H? 
"Earlier this year I received the 4-H Leadership Accomplishment Scholarship. I also received the Indy Food Challenge winning wooden cutting board after earning first place with my team in the senior division of the Indy Food Challenge in 2019."
What does the hashtag #OpportunityForAll (the campaign for this year's National 4-H Week) mean to you? 
"To me, #OppurtunityForAll means everyone, people of all races, people with disabilities, and people in the LGBTQIA+ community are welcomed and treated with comfort, regardless of their skin tone, gender, or social status. No youth's light should ever be dimmed because someone else can't accept its' brightness; everyone deserves to shine. Over time and with some work, I hope 4-H can be a safe and comfortable place where youth of all backgrounds can shine bright."
What has been your favorite project you have worked on in 4-H? 
"My favorite project I've worked on in 4-H has been sewing dresses and writing letters for orphan girls in Kenya."
Lastly, why should kids join 4-H? What advice would you give kids who are thinking about joining 4-H? 
"Kids should join 4-H because it's a welcoming and open environment that introduces you to new talents and skills. It's hard to know what you want to do for the rest of your life when all you've done is sit in classrooms. 4-H gives you opportunities to discover your interests, strengths, and weaknesses. Some advice I would give kids thinking about joining 4-H is to keep an open mind. It's easy to lock yourself down and hold yourself back to certain thoughts, but 4-H really changed my perspective on a lot of things. My willingness to listen and learn has been one of my most beneficial traits while in 4-H. Make sure you keep that as well and utilize it to learn new skills, ideas, and perspectives."
Stay tuned on our website, Facebook, Twitter, and Instagram to read stories like this about more of our 4-H members who are making changes in their communities!