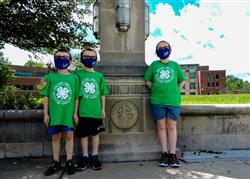 Marion County 4-H Educators and fair committee representatives faced a difficult landscape for this year's 4-H Showcase. Despite the uncertain times we're all living through, the team in Marion County rose to the challenge of creating a memorable and safe event to honor the hard work and dedication of their 4-Hers.

For the first time in history, the Marion County 4-H Showcase went virtual!

This year, the clover continued in Marion County as more than 400 4-Hers (3rd - 12th grade) and 50 Cloverbuds (K-2nd grade) submitted their projects virtually. 4-Hers snapped photos and wrote down details about their colorful artwork, creative robots, decorated cakes, hand-stamped leather belts, and much more for judging! Afterward, 32 volunteer judges carefully reviewed each submission and selected 106 spectacular projects to move on to the State Fair! Additionally, judges provided both written and verbal feedback as well as the opportunity to answer questions from each interested participant. If you'd like to see a list of 2020 Project Submissions and State Fair Advancements, click here.

The 4-H Showcase was truly a team effort - 15 volunteers from the Marion County Fair Committee assisted with the planning, logistics, set up, tear down, and everything in between! Youth Development Educator Dustin Homan shared:
 "We are a new team here in Marion County, and organizing a fair is a huge undertaking. We honestly could not have pulled this off without the amazing volunteers and judges who made this happen for the kids. We are so grateful." 
The Marion County 4-H Showcase culminated Sunday, July 12th with a Victory Lap at the Indiana State Fairgrounds. This final celebration included a car decorating contest, socially distanced opportunities for pictures, distribution of ribbons and awards, and of course, a sweet treat at the end!  At the end of the evening, families, friends, and 4-Hers came together for the virtual awards ceremony that announced Showcase winners. 
The 2020 4-H Virtual Awards Ceremony can be found in its entirety here. 
Ashley Shufflebarger 
(she/her/hers)
4-H Youth Development Educator 
Purdue Extension Marion County
adshuffl@purdue.edu