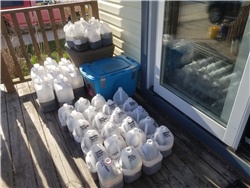 2021 Winter Seed Sowing Virtual Workshop with Dolly Foster
Do you want to learn how to start seeds but have problems growing them in the house? Winter Sowing is a great alternative!
Winter Sowing is a method of starting seeds outdoors, in the winter! It is best for seeds that need to be stratified (a short cold period) in order to germinate. By winter sowing you are taking advantage of the natural temperatures and length of day to trigger germination. Germination rates are usually high. The advantages of winter sowing are many! You do not need seed trays, light; do not have to treat your soil for damping-off disease or worry about your seedlings drying out.  
Join us via Zoom to learn more! January 9, 2021, 10:00 a.m. - 11:30 a.m. (Central). Register with this link by January 6: https://tinyurl.com/seedsowing21
You will receive a Zoom link and reminder email closer to the program.