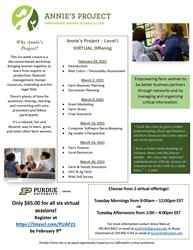 This six-week course is a discussion-based workshop bringing women in ag together to learn from experts in production, financial management, human resources, marketing and the legal field. 
Only $65.00 for all six virtual sessions! Register at https://tinyurl.com/PUAP21 by February 9th.
Choose from 2 virtual offerings! 
Tuesday Mornings from 9:00am-12:00pm EST, 8:00am-11:00am CST
or 
Tuesday Afternoons from 1:00-4:00pm EST, 12:00-3:00pm CST
Annie's Project - Level 1 VIRTUAL Offering
February 23, 2021
Introduction
Real Colors - Personality Assessment
March 2, 2021
Farm Business Planning
Succession Planning
March 9, 2021
Grain Marketing
Farm Stress
Crop Insurance
March 16, 2021
Computer Software Recordkeeping
Ag Lender's Perspective
March 23, 2021
Farm Finance
Local Resources
March 30, 2021
Farm & Family Insurance
UAV & Ag Tech
Web Soil Survey
For more information contact Jenna Nees at 765-653-8411 or email at smith535@purdue.edu or Bryan Overstreet at 219-866-5741 at boverstr@purdue.edu
Purdue University is an equal opportunity/equal access/affirmative action institution. 
Related Files