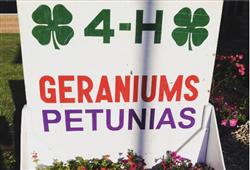 It's that time of year again for 4-H Club Flower Sales! 4-H Flower sales are the most important fundraiser and support for the Hendricks County 4-H Program. Money raised during this fundraiser goes to the Hendricks County 4-H Youth Council to support scholarships, 4-H Events, and more. A portion of the funds also go back to your local 4-H Club! Support 4-H today by buying some flowers!
This year, our 4-H members are selling more than just the traditional seed geraniums. They will also have wave petunias! Prices are listed below: 
Seed Geraniums - $1.75 (red or hot pink)
Wave Petunias - $5.00 (purple or white) 
4-H members need to have orders turned in to their club leader by March 17th or sooner!! Talk with your club leader to find out more information. Flowers will be available for pick up on May 1st from your club's designated pick up site. However, please note that extra flowers will be available at the Fairgrounds site until they are gone after May 1st. Be sure to check out the flyers below for more information on pick up sites and flower information. 
Related Files