Join the fun at the Hamilton County 4-H Fairgrounds this Spring Break with these day camps!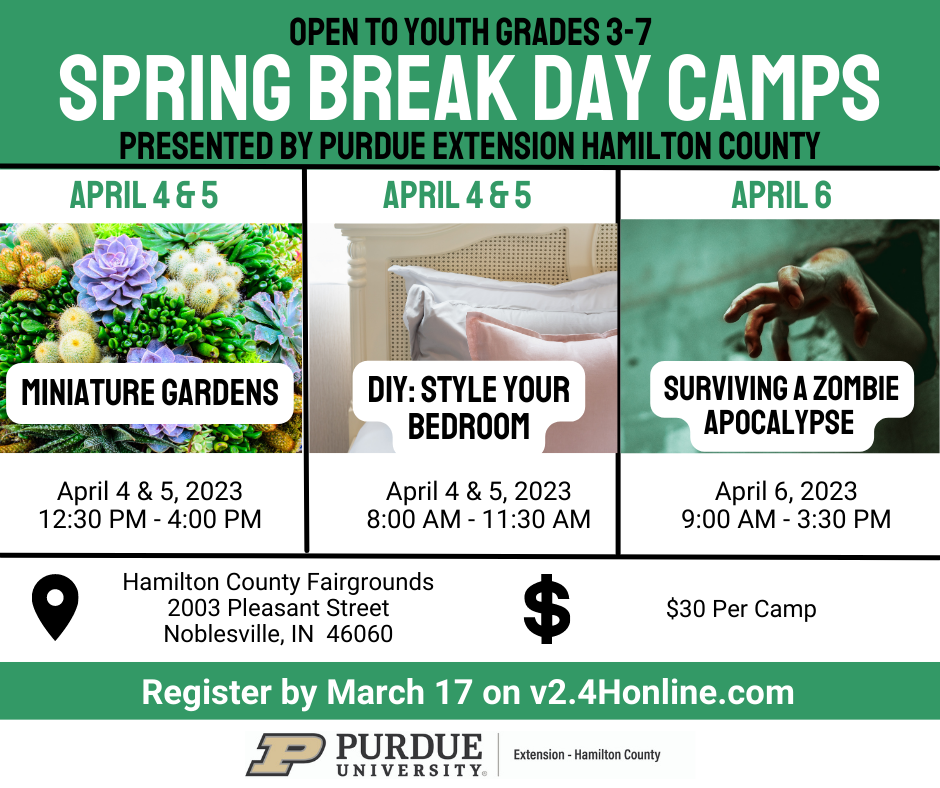 DIY – Style your bedroom: April 4 & 5 from 8:00 a.m. – 11:30 a.m.
Calling all creative youth who love to decorate and organize! This day camp will allow participants to learn all about the elements of design (shape/form, texture, color, line, and space). Youth will participate in lots of hands-on activities and create their own organizational basket.
Miniature Gardens: April 4 & 5 from 12:30 p.m. – 4:00 p.m.
Have a green thumb or want to learn how to care for plants? This camp teaches participants about soil, propagation, and the overall care required for plants. Ready to get competitive? Put on your racing shoes for a worm race! Each participant will also get to create and decorate their own miniature garden.
Surviving a Zombie Apocalypse: April 6 from 9:00 a.m. – 3:30 p.m.
Are you a zombie fan? Participants in this camp will learn about natural disasters and how to be prepared. Youth will also get to participate in Fear Factor-inspired activities that will test their limits (don't worry, no real bugs). Each person will also create their own paracord survival bracelet and sanitizer to take home.
*Lunch is not provided. Participants will need to bring a sack lunch if they attend camp(s) all day.
Participants may attend one or any combination of camps desired - $30 per camp.  4-H membership is not required.  All camps will be held at the Hamilton County 4-H Fairgrounds, 2003 Pleasant Street, Noblesville, IN 46060.  Registration Deadline:  March 17, 2023.   Space is limited. Register on v2.4Honline.com.
If you are not enrolled in 4-H you will need to create an account through 4Honline. 
Follow the instructions below:
Once you are enrolled you are ready to register.
Follow the instructions below to register for camps:
Event Registration Instructions
For questions contact the Hamilton County Purdue Extension office at (317) 776-0854.