Two Hoosiers were recently inducted to the National 4-H Hall of Fame for their lifetime achievements and contributions to 4-H.
"Indiana 4-H is proud to recognize the honorees for their significant contributions and years of dedicated service to Indiana 4-H and 4-H as a whole," said Casey Mull, Purdue Extension's assistant director and program leader for 4-H youth development. "We are also proud of two others with Indiana 4-H roots who were inducted, Bryan Chadd of Arizona and Sandra Clarkson Stuckman of Michigan."
Robert Ritchie, Lafayette, Indiana
Robert Ritchie received his B.S.in animal sciences from Purdue University in 1963. He began his Extension career in Grant County as a 4-H Youth Educator and proceeded to lead as the Extension county director. He later became a member of the Indiana State 4-H staff at Purdue University, a position that he held for 18 years until his retirement in 1998.
Ritchie was responsible for horticulture and field crop programs and associated state fair exhibits, the 4-H scholarship program, national 4-H awards program, field staff development, state fair fashion revue, and a large portion of the state's career development events. He is credited for the overall success of Purdue's 4-H Plant Science Workshop, now part of the overall 4-H Academy @ Purdue and he improved management of the Indiana 4-H and FFA Career Development Events. Ritchie led the development of the Indiana 4-H Congress.
Ritchie's professional service included two terms on the University Senate, president of the Purdue University Cooperative Extension Specialists Association and many other leadership positions through the years. He was an active member in Epsilon Sigma Phi k (ESP) and Gamma Sigma Delta professional organizations, Indiana Extension Educators Association and a life member of the National Association of Extension 4-H Youth Development Professionals (NAE4-HYDP). Ritchie served on the Board of Directors of the Purdue Agriculture Alumni Association, two years as president.  
He continues to serve as a 4-H photography judge at numerous county fairs and the Indiana State Fair as well as the dean of boys at the annual statewide Purdue 4-H Round-Up and the 4-H Academy at Purdue.
Darrel Thomas, Greencastle, Indiana
As a 4-H member, professional, volunteer and donor, Darrel Thomas' leadership has encouraged and championed thousands of 4-H members and volunteers. He credits his 10-year 4-H membership as the beginning of a successful career. Thomas served Indiana 4-H and Purdue Extension for 31 years as a Fountain County assistant county educator and Putnam County Extension 4-H educator and Extension director.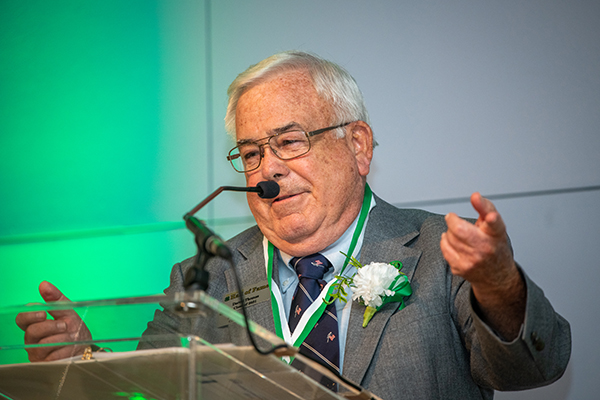 Thomas was active in the Indiana Association of Extension 4-H Agents and served as the president in 1988. He served on the National Association of Extension 4-H Agents and was on the National Board as the North Central Region Director from 1990-92. After retirement, Thomas was elected president of the Putnam County Council and continued to be a voice for Extension and the needs of his community. Honored for his continued leadership, Thomas was awarded the Sagamore of the Wabash, the highest award given to an Indiana citizen by the Indiana governor.
Today, Thomas stays involved with his community, including the Putnam County Prevention, Intervention, and Education on Drug Abuse Coalition, an organization he helped form.  The National Rural Institute on Alcohol and Drug Abuse has recognized this coalition, which has also been honored by the governor as being the top coordinating council in Indiana.