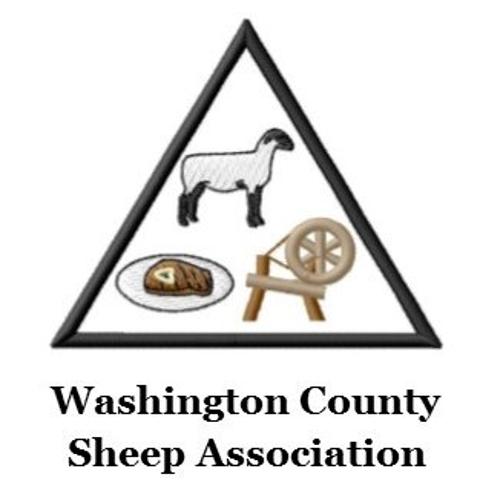 15th Annual Hair Sheep Sale
The 15th Annual Midwest Hair Sheep Sale will be Saturday, October 2, 2021 at the Washington County Fairgrounds (118 Fair St., Salem, IN 47167).  The sale will begin at 1:00 pm.  Sheep will be available for viewing at 11:00 am.  Sale catalogs with animal and consignor information are available in the attachment below.
Click here for a printable pdf sale catalog:
county/washington/_docs/2021MidwestHairSheepSaleCatalog.pdf
General Sale Information:
All consigned sheep must be born prior to April 15, 2021.
Minimum bids for ewes: $150 – commercial; $200 – registered. Incremental increase of $25 per bid.
Minimum bids for rams: $200 – commercial; $250 – registered. Incremental increase of $25 per bid.
No bids taken for less than minimum. Animals not selling in the sale may be available for private treaty.
Registered animals must have registration papers available or guaranteed. Transfer fees should be paid by the seller.  The seller will be furnished with the name and address of the animal's buyer.
To receive a bidder number a valid I.D. at sign-in is required.
Credit card payments accepted with 4% surcharge.
Check-out/loading after end of sale only.
Food will be available.
 For questions contact Jason Webster, Wash. Co. Sheep Assoc. President, at 812-725-5700 or jason@greenpastures.farm or Purdue Extension-Wash. Co. at 812-883-4601 or dhowellw@purdue.edu.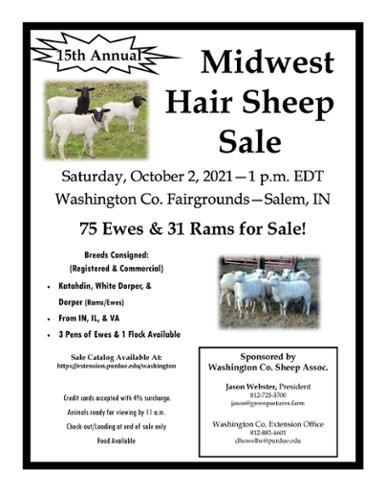 Click here for a printable pdf flyer: county/washington/_docs/2021HairSaleFlyerBuyers.pdf