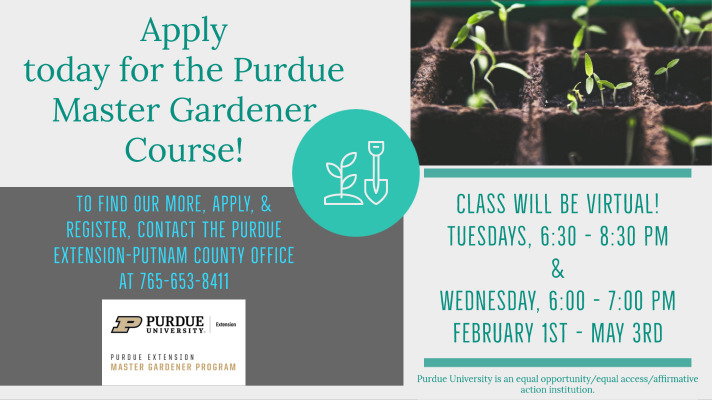 Purdue Extension Master Gardener Course
Purdue Extension Master Gardeners (EMG) receive training in horticulture to equip them to volunteer to assist Purdue Extension with home horticulture education in local communities.  The requirements for Purdue EMG certification include acceptance into the training through an application and screening process, payment of registration fee, completion of the EMG Basic Training which includes passing the open-book final exam with a score of 70% or higher, and contributing at least 40 hours of volunteer service approved by the local EMG County Coordinator within two years.  Purdue Extension Master Gardeners are also required to complete at least 12 volunteer and 6 continuing education hours every year in order to stay active. 
For 2022, there will be a Statewide Virtual Purdue EMG Basic Training from February 1 – May 3, 2022 (does not includes final exam due date). Many counties have come together to offer this program which includes a local county connection hour. The statewide live webinars will be held on Tuesdays, from 6:30 – 8:30 pm. In Putnam County, the local county connection hour will be on Wednesdays, from 6:00 – 7:00 pm each week. Most of the local county connection hours will be held virtual, but a few may be held in-person. To complete the course, we ask that you attend both the statewide virtual sessions and the local county connection hours.
 Application and Registration Information
Please read the Purdue Extension Master Gardener Program Policy Guide and complete, sign, and return the Purdue Extension Master Gardener Volunteer Application and Agreement (Form EMG-1) to the Putnam County Extension Office (located at 12 Central Square, Greencastle, IN). All applicants are also required to consent to national and state sex and violent offender registry checks and provide evidence of a government issued photo ID to your local EMG County Coordinator or designated Purdue Extension staff. You may download the policy guide here: http://tinyurl.com/MGstateguide or contact Jenna Nees at smith535@purdue.edu or 765-653-8411 to receive a copy.
 Form EMG-1 & Government Issued Photo ID Due by January 11th.
 Upon confirmation of acceptance of your application and providing evidence of government issued photo ID, an online registration link will be sent to you. The registration options are listed below:
$180.00 for an individual registration with print version of Purdue EMG Manual.
$280.00 for two people sharing a print version of the Purdue EMG Manual. (Sharing option works best for two people living in the same household.)