Pike County YQCA Training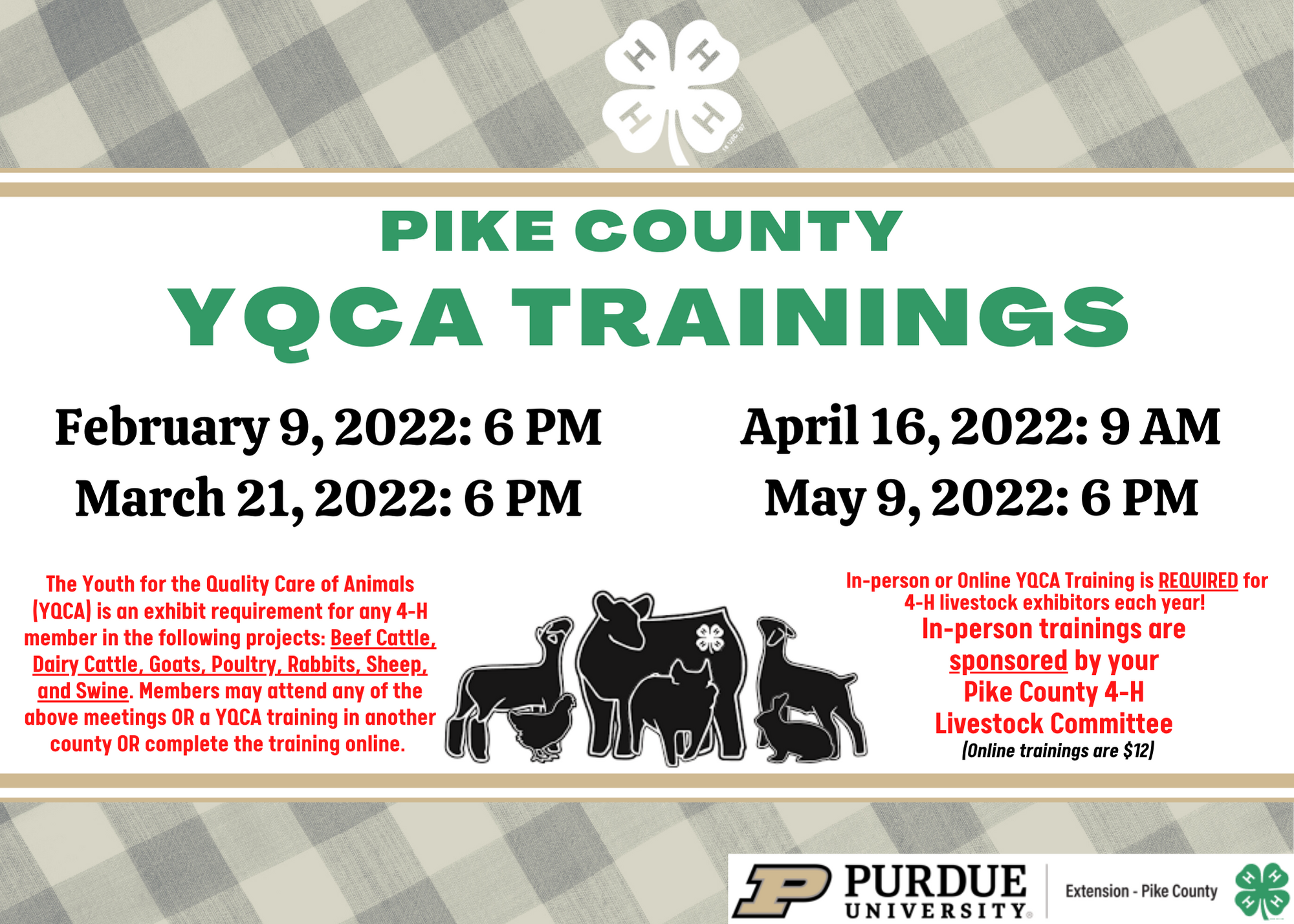 YQCA Trainings have been set up in Pike County for the 2021-2022 4-H program year.
The Youth for the Quality Care of Animals (YQCA) is an exhibit requirement for any 4-H member in the following projects; Beef Cattle, Dairy Cattle, Goats, Poultry, Rabbits, Sheep, and Swine.
This training MUST be completed by May 15, 2022. 
Members may attend any of the trainings hosted in Pike County OR attend a YQCA Training in another county OR complete the training online.
Four in-person sessions will be held on February 9 (6 PM), March 21 (6PM), April 16 (9AM), and May 9 (6PM) all at the Pike County 4-H Exhibit Building in Hornady Park in Petersburg, IN. 
Pike County 4-H Youth may complete this in-person training at no cost due to a generous sponsorship by the Pike County 4-H Livestock Committee. All other attendees will be $3/youth.
The online training is also available at any time to all 4-Her's at a cost of $12/youth. 
If Pike County 4-H Youth complete their YQCA Training in another county or if they complete the YQCA Training online, a copy of the completed YQCA Training certificate should be delivered to Alex via the Extension Office or via e-mail, as soon as possible so that she may mark your required training as complete within the Pike County 4-H records. 
The YQCA completion deadline for Pike County 4-H is May 15, 2022. ALL YQCA TRAININGS should be completed at this time. 
If you have any questions, please call the Pike County Extension Office at (812) 354-6838 or e-mail 4-H/ANR Extension Educator, Alex Mahrenholz, at amahrenh@purdue.edu.