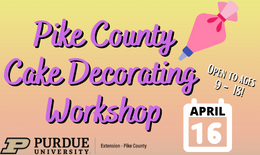 4-H Cake Decorating Workshop
Join Pike County 4-H for a Cake Decorating Workshop for beginners.
This event is free to the first 15 registrants, who may be any youth age 9-18, whether they are a current 4-H member or not!
This workshop will cover the following items: (and possibly more!)
Basic Cake Decorating equipment
Frosting Properties
Piping Tip Uses
Piping Techniques
Call the Pike County Extension Office at (812) 354-6838 or e-mail Alex Mahrenholz at amahrenh@purdue.edu to register ASAP!