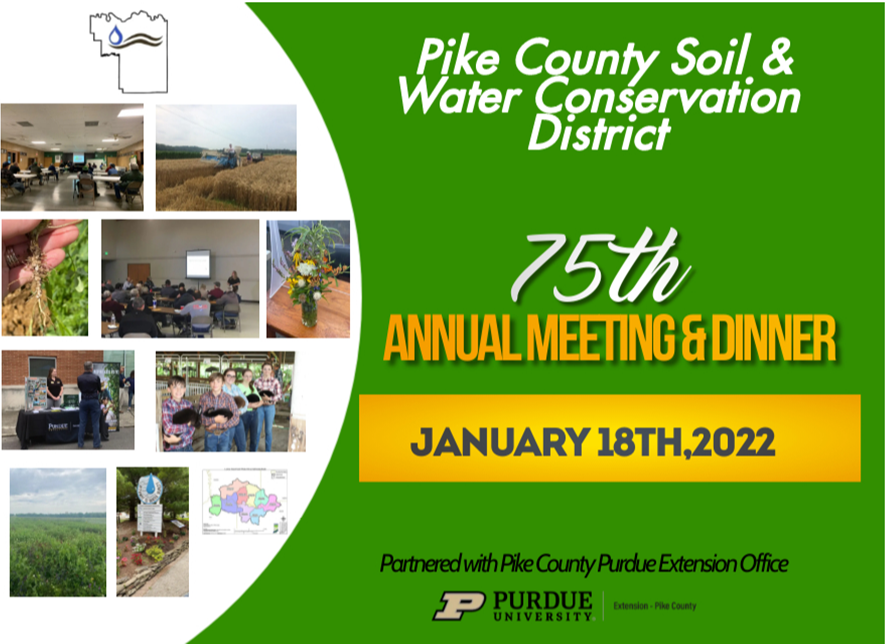 Pike County Extension Board/SWCD Annual Meeting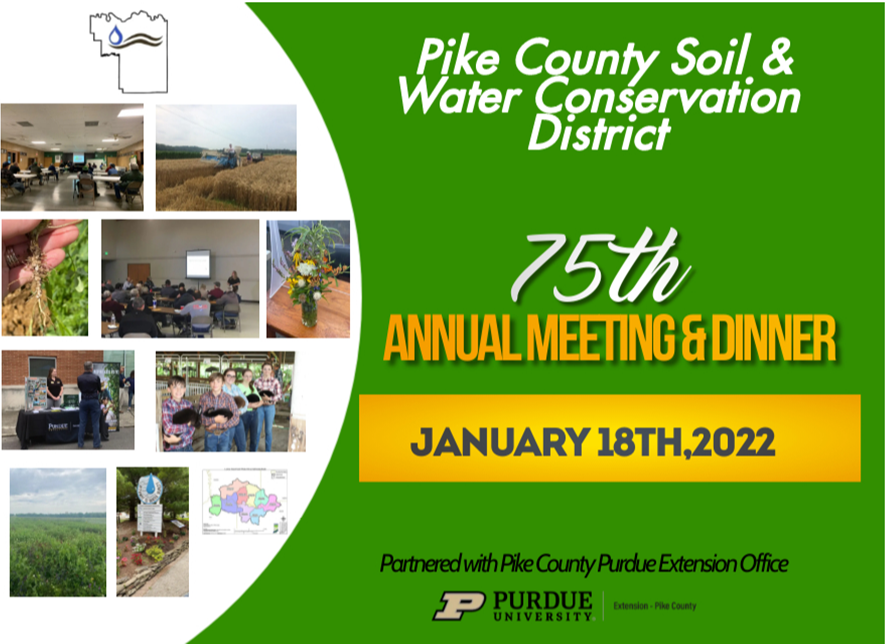 Join us for an evening of good food, great fellowship and entertainer, Scott Ham at the 75th Annual Dinner & Meeting!
About this event
Save the date and join the Pike County Soil & Water Conservation District along with Pike County Purdue Extension for a FREE night of good food, great entertainment and like-minded fellowship at the 75th Annual Dinner and Meeting on Tuesday, January 18th, 2022 which will be held at the Otwell Community Center located in Otwell, Indiana. The evening will consist of a catered meal by Sander Catering, the SWCD/Purdue Extension Business meetings followed by after-dinner entertainment/education by Scott Ham! Doors will open at 6:00pm, dinner will be served at 6:30pm.
The SWCD is thrilled to have booked entertainer, Silver Creek Water Corporation Manager and former Chair of the Indiana State Soil Conservation Board, Scott Ham! Scott will share a high energy and entertaining look at soil and water conservation. Scott's hope is that through using people's experiences, we will initiate change where needed, and support those already doing outstanding works.
This event is FREE to attend but RSVP's are required and should be made no later than 4pm on Tuesday, January 4, 2022. Simply complete the registration process on Eventbrite and your name(s) will be on the list. If you need to cancel, the SWCD asked that you please contact the office as soon as possible so that an accurate meal count can be turned in. If RSVP's are made AFTER 4pm on 1/4/22 up until the night of the event - including walk-ins - a service fee of $10 per person will be required to attend. For questions, please call the SWCD office. A processing fee will be charged by Eventbrite for those wishing to pay via credit card on Eventbrite. Cash or check purchases can be made at the SWCD office or at the door the night of the event.
Stay tuned to the Pike County SWCD's Facebook page or call 812.354.6120 ex. 3 for more details. Should inclement weather hit, updates on the event will be posted on the Facebook page and through an email notification via Eventbrite!