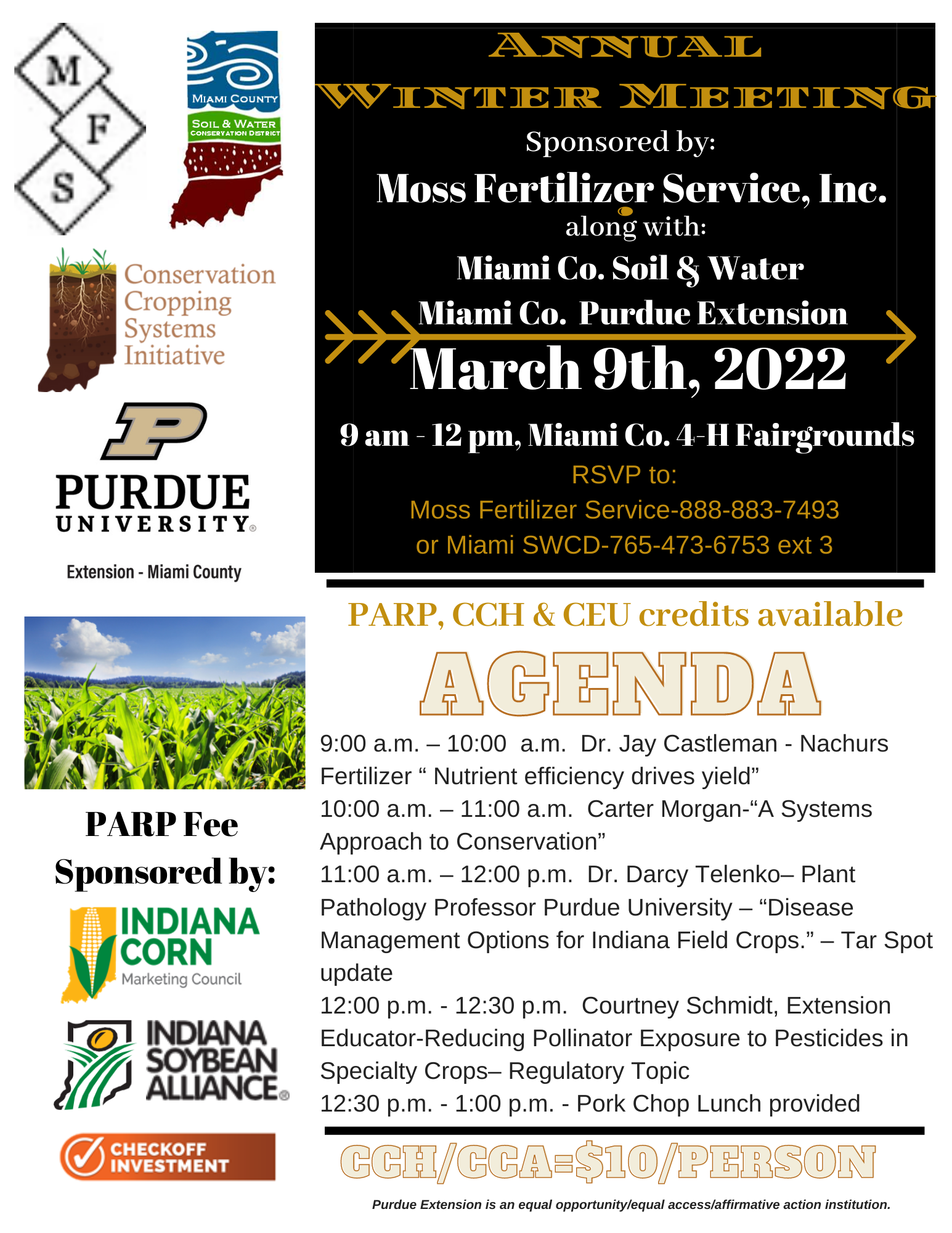 Annual Winter Meeting
The Annual Winter Meeting with Moss Fertilizer Services, Miami County Soil & Water Conservation District, Conservation Cropping Systems Initiative and Purdue Extension is scheduled for March 9th, 2022 from 9 am to 12:30 pm at the 4-H Fairgrounds Community Building.  Participants will hear from Dr. Jay Castleman with Nachurs Fertilizer on "Nutrient Efficiency Driving Yield."  Indiana Soil & Water Conservation District's Carter Morgan will present "A Systems Approach to Conservation", Dr. Darcy Telenko, Purdue Plant Pathologist will speak on "Disease Management Options for Indiana Field Crops" as well as give a Tar Spot update.  Courtney Schmidt, Purdue Extension Educator, will give the regulatory topic on "Reducing Pollinator Exposure to Pesticides in Specialty Crops."  At 12:30 pm begins the pork chop lunch.
Continuing education hours for Private and Commercial applicators, as well as Certified Crop Advisors will be provided.  Commercial Categories included are Registered Technician, Ag Fertilizer Application, Ag Pest Management and Aerial Application.  If you need CCH or CCA points there is a fee of $10/person.  The Private Applicators (PARP) fee is sponsored by the Indiana Soybean Alliance and the Indiana Corn Marketing Council.  Please RSVP to Moss Fertilizer or Miami County SWCD if you plan to attend by March 4th.