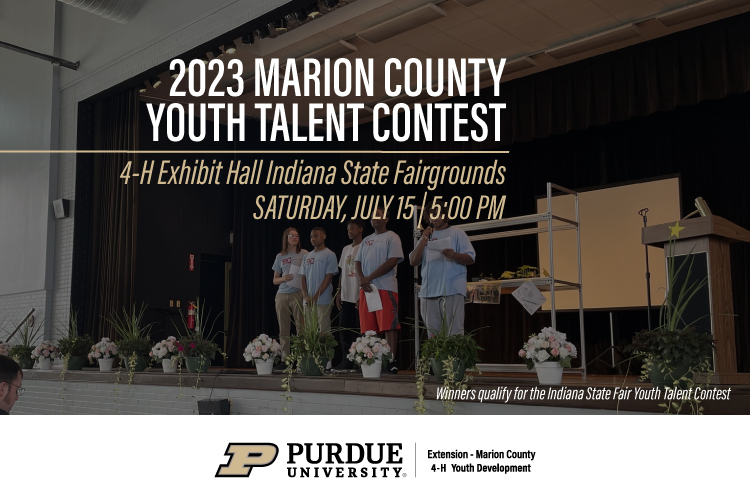 2023 Marion County Youth Talent Contest
The 2023 Marion County Youth Talent Contest will be held Saturday, July 15th, 2023 at 5:00 PM in the 4-H Exhibit Hall & Auditorium at the Indiana State Fairgrounds, in conjunction with the Marion County 4-H Showcase. This is a FREE event and open to the public to attend.
All Marion County youth 21 years of age are less are eligible to enter the contest. Entrants do NOT need to be in 4-H to enter. Entry fee is $10 per act for contestants and $20 for group acts (non-refundable; required prior to or at check-in to compete). Winners are eligible for the Indiana State Fair Youth Talent Contest!
Contest Categories:
Vocal Solo or Vocal Group
Instrumental Solo or Instrumental Group
Dance Solo or Dance Group
Novelty Solo or Novelty Group (comedy, mimes, skits, etc.)
Tumbling Solo or Tumbling Group
Clogging Solo or Clogging Group
Baton Solo or Baton Group
Pre-registration is required to compete! The deadline to enter is July 5th, 2023.