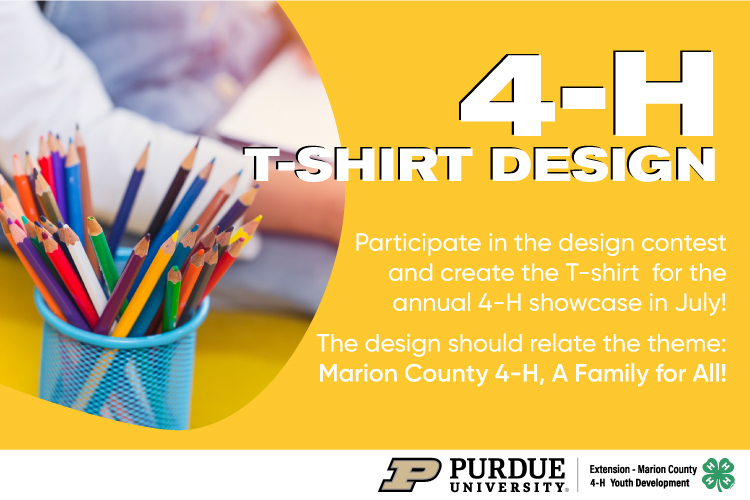 Design A T-shirt For 4-H showcase
Marion County 4-H
T-Shirt Design Contest Rules
Entry Fee: FREE!
Who Can Enter the Contest: Currently enrolled Marion Co., IN 4-H Members (Gr. 3-12) & Cloverbuds (Gr. K-2)
Presentation: Design must not be larger than 8.5" x 11". You may use any medium: from paints, photography, colors, to digital designs, etc. A design with one or two colors is ideal. Your preferred t-shirt color will be considered. Design must include front of the T-Shirt, back design optional. Keep in mind that highly detailed graphics may not print well when screen-printed (see previous designs).

All artwork must be original. All other work will be disqualified. Maximum two artwork entries per 4-H member.

Entries must be received by Monday, May 1, 2023 by 4:00 p.m.

Ways to Submit Entries:
- Mail design(s) to Marion County Extension Office: ATTN: 4-H/Youth Dept., attn. Rachael Smith, Discovery Hall, Indiana State Fair, 1202 E. 38th St., Indianapolis, IN 46205
- FAX design(s) to: (317) 275-9309
- Email design(s) to: adshuffl@purdue.edu
Entry Form: Entry must include the official entry form.
Winner: The T-shirt design for 2023 will be selected by a sub-committee of the Marion Co. 4-H Fair Committee.
Award: First Place will receive their designed t-shirt.
Retention on Design: Once a design is submitted to the Marion Co. 4-H Youth, designs become the property of the Marion Co. 4-H Youth. They have the exclusive rights to the reproduction of winning entries and the submitting artists relinquish all rights to such design. Intent of these shirts will be for 4-H Adult Volunteers at the 2023 Marion County 4-H Showcase. Proceeds from any sale of the T-Shirts will go the Marion Co. 4-H/Youth Leadership Program. The non-winning entries may also be produced.
How: Please complete the entry form. Follow the instructions above with your design on a sheet of paper no larger than 8.5" x 11".
T-Shirt Design: Designs should include an official 4-H Clover logo and "Marion County, IN". Design may or may not include the word "Volunteer". Avoid use of common catch phrases.
Proper Use of the Clover: The 4-H logo sends a message. It tells everyone that you are involved in the 4-H Youth Development program. Because the 4-H 'brand' is very valuable – to us and to you – we are very cautious about the way that the clover is used. In fact, the clover is protected by law. This is not meant to be a deterrent; we want you to use it on your entry! Basic policies for the 4-H Clover include the following:
- Only use an official 4-H Clover emblem graphic from: click here.
- You need to maintain the proper height and width proportions of the image.
- Text or graphics should never cross or be superimposed on top of the 4-H Clover emblem. The 4-H Clover may not be a watermark. You also may not use another clover (representing 4-H) as a graphic...needs to be the real thing.
- The 4-H Clover should not be rotated turned on its side or cropped in any way.
- The 4-H Emblem should never be screened, shaded, gradated, or appear in a multicolored hue. The official and p referred color of the 4-H Emblem is 100 percent PMS 347 green, (The H's reversed out to the color of the paper/cloth on which the emblem is printed). The clover can also be white, black, or metallic gold. The H's on the clover can be white, metallic gold (only on a green clover), green (only on a white clover), or black. The clover can be outlined in green (for white clover) or white (for green clover) to add prominence to the image and make the emblem stand out from the background.