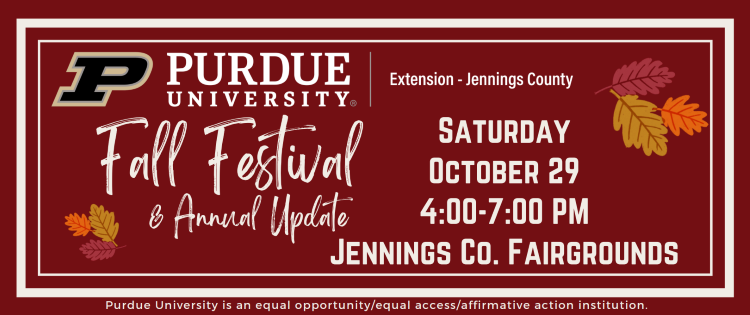 Fall Festival & Extension Annual Update
A non-perishable item(s) or free will donation for the JCHS Food Pantry is requested for admission. (JCHS Food Pantry needs include: oatmeal, pancake mix/syrup, poptarts, cereal, granola bars, crackers, salt/pepper, cooking oils, canned vegetables, canned soup, etc.)
Come meet the Extension Staff and learn about our programs! 
Things to do at the event: 
5:00pm Raptors Rise: A wildlife rehabilitation center dedicated to helping injured and orphaned eagles, owls, hawks, and falcons. Raptors Rise is a nonprofit organization and is fully permitted through IDNR and Federal Fish and Wildlife. 
6:00pm Apple Crunch: Join everyone for a special presentation of the Great Lakes Apple Crunch! We will all crunch into an apple to post to support National Farm to School Month!
All throughout the event...
Dinner: A delicious chili dinner will be served by the Jennings County 4-H Junior Leaders.
Fecal Egg Count: Curious about the fecal egg count service we offer? Come check out the creepy, crawlies that could be hiding inside your animals! Rebekah will also be offering this service at half price during the event!
StoryWalk®: Dress up as your favorite book character and join us for a StoryWalk® and learn all about Purdue Extension along the way! (The StoryWalk® Project was created by Anne Ferguson of Montpelier, VT and developed in collaboration with the Kellogg-Hubbard Library. Storywalk® is a registered service mark owned by Ms. Ferguson.)
Blender Bike: Rock the Blender Bike to create a delicious Apple Smoothie!
Learn about 4-H: Interested in 4-H? Learn about our clubs, projects, and all our program has to offer! We will also be offering an enrollment station to sign up anyone interested in 4-H for 2023. 
Pumpkins: Learn Fun Facts about Pumpkins and sample a nutritional pumpkin soup!
STEM: We will have STEM Activities for children and adults of all ages to learn and build!
Thank you to our Fall Festival sponsors!
Rose Acre Farms
JCB
Shepherd's Insurance
Friends of Extension
Jennings Co. 4-H Junior Leaders
Jennings Co. 4-H Livestock Committee
P&Y Farm Fresh Market
First Financial Bank 
If you are interested in sponsoring an activity booth or door prize at our event, please contact Stacey at 812-352-3033.