Hamilton County Youth Talent Contest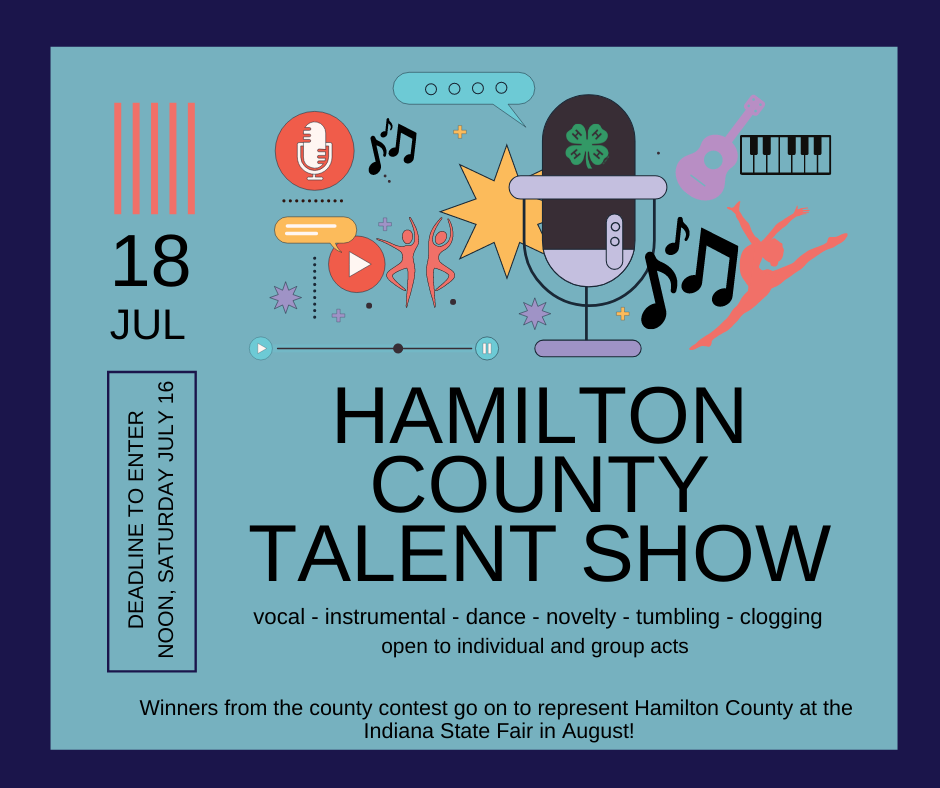 Share your talent at the Hamilton County 4-H Fair! The Hamilton County 4-H Council, Inc. will be hosting a talent show for youth ages 21 and under. The show will be held on the stage in Exhibition Center Hall A and will consist of a maximum of 20 Junior and 20 Senior acts in various categories. Entry forms are available online or from the Purdue Extension Hamilton County Office and are accepted on a first come, first served basis. The winners of each category will be eligible to participate in the State Fair Talent Show.
Hamilton County Exhibition Center Hall A
Monday, July 18, 2022
Junior Division- 2:00 p.m.
Senior Division- 3:30 p.m.
Online Entry Form: https://forms.gle/Tifj74XKGBKHxVkN8
2022 Hamilton County Information Packet
2022 State Fair Youth Talent Contest Rules 
Categories:
Vocal Solo
Novelty Solo
Vocal Group
Novelty Group
Instrumental Solo
Tumbling (Free X only) Solo
Instrumental Group
Tumbling (Free X only) Group
Dance Solo
Dance Group
Clogging Solo
Clogging Group
Talent Show Rules:
All rules that are in the State Fair rule book are enforced at the county level. Additional rules are added to make the county contest fair and enjoyable for the participants and everyone involved. Entry opens June 16. Enter here: https://forms.gle/Tifj74XKGBKHxVkN8 Paper entry forms are also available from the Purdue Extension Hamilton County Office.

1. Contestant must be either:
a. A resident of Hamilton County.
b. Or a 4-H member in Hamilton County.
2. Completed entry forms must be turned into the Extension Office no later than 12:00 Noon Saturday, July 16, 2022.

3. The deadline for changing music, members, and/or categories is the same as the deadline for entering the contest.

4. Contest is limited to the first 20 contestants per age division. If the contest becomes full and a contestant backs out before the deadline for entering the contest, then the earliest entry from a contestant on the waiting list will be given the option of competing.

5. The time limit for a performances is 2:00-minute limit for solo act; 2:30-minute limit for duets and groups of three or more; 5:00 minute limit for band performances. If a contestant exceeds the time limit there will be a ten point deduction from the total score.