Citizenship Washington Focus
July 1-7, 2023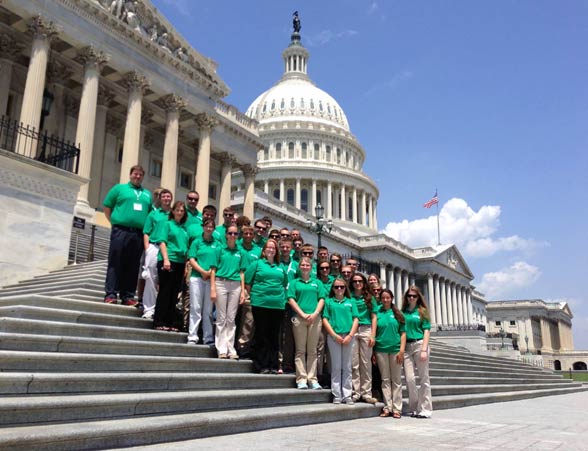 This one time trip is an exciting experience for 4-H members and other youth to go to the nation's capital and learn more about the meaning of citizenship. Listening, learning, sharing, receiving, caring and touring combine to provide a deeper respect and understanding for our American heritage and the principles, processes and structures of the U.S. government. 
Young people acquire increased motivation and skills for dealing with contemporary social issues and for taking leadership in community development, government affairs, and related projects when they return home. Each delegate will take part in workshops on contemporary issues and topics such as international affairs, human relations, government, ecology and conservation, family life and dating, community development, drama and creative expression, economics, agricultural policy, leadership, and careers. In addition, advanced training sessions are scheduled to provide in-depth concentration on one topical area such as community development, heritage, economics, politics, environment and ecology, human relations, communications, family life and dating, advanced citizenship-seminar policy, and others of current interest. 
4-H member must be at least 15 years of age and in 9​th grade or higher by the first day of the trip. The trip to Washington, D.C., will be made by Purdue charter bus. Indiana delegate registration is $1,600.00 per person and includes transportation, lodging, meals as part of the conference registration package, and special Indiana tours. Interested youth must contact their county 4-H Extension educator.